As the current uncertainty due to the Covid-19 pandemic continues, we are sad to announce that the Shelley Theatre will remain closed until at least January. We are working with our performers to reschedule events wherever possible. In the meantime, we would like to reassure you that we are contacting all affected ticket holders directly, and we do ask for your patience as we work through this. We continue to monitor the situation very closely, and if it is necessary to extend our period of closure then we will not hesitate to do so. As always, the health of our staff, volunteers and patrons is our highest priority. The Shelley Theatre is determined to survive these challenging times. We would like to thank you all for the truly heart-warming support you have shown us, and we look forward to welcoming you back when we re-open.
THE SHELLEY THEATRE
Our theatre is the original, Grade II listed, Victorian Proscenium Arch theatre installed in the manor house by Sir Percy Florence Shelley.
With a full year round performance and film programme, this is our main creative space.
Available to hire for private film showings, concerts, conferences, lectures, seminars and other corporate events. Full technical support is available if required.
*For all artistic hire enquiries, please take a look at the Theatre Programming section.
FACILITIES:
150 seat auditorium
Stage area of 6.12m x 6.63m
3 dressing rooms
Baby grand piano
Lighting desk + Rig
Projector + Screen
Microphones + Basic Front of House Speakers
Television
WiFi throughout the building
ACCESS:
For those with access requirements the stage area is elevated by two steps (approx. 18 inches) . We do not have ramps to this area at present, or any level access backstage toilet facilities. The dressing room is level access from the stage.
Please contact us to discuss special rates available to local schools.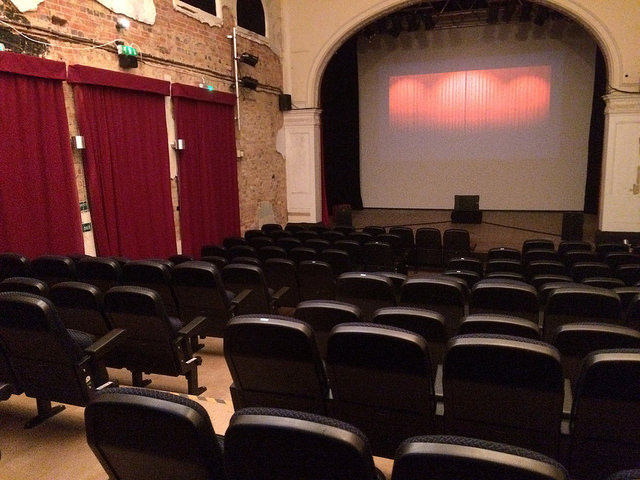 REFRESHMENTS & CATERING
Let us work with you to ensure your event is fully supported, including providing tea and coffee, light snacks and bar facilities from our in-house café, if required.
TECHNICAL SUPPORT
Technical equipment, including lighting desks & rigs, microphones, speakers, televisions, projectors & screens are available.
Please note: additional costs for technical equipment and/or technical support may apply.